Tasty Ribbon Fish of Ecuador: Fresh and Packaged Forms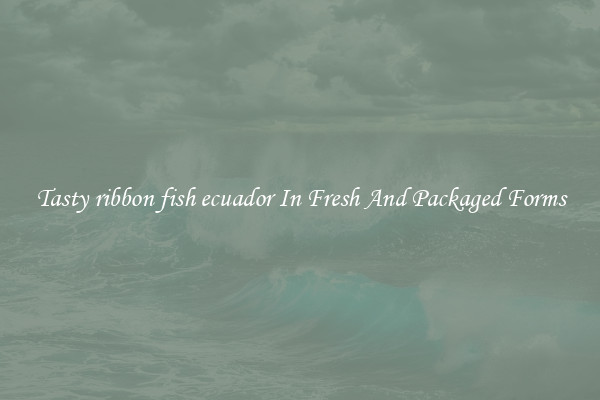 Ecuador, known for its diverse marine ecosystem, boasts a wide array of delicious seafood. One particular delicacy that stands out is the tasty ribbon fish, also known as the hairtail. This popular fish can be found in both fresh and packaged forms, making it a versatile choice for seafood lovers.
Fresh ribbon fish is widely available in Ecuador, especially in coastal regions. With its slender body and long, ribbon-like appearance, this fish is not only visually appealing but also offers a delectable taste. Its tender, white flesh has a delicate flavor that is often compared to a cross between swordfish and sole, making it a favorite among seafood enthusiasts.
The fresh ribbon fish is predominantly caught in the Pacific Ocean, where it thrives in the nutrient-rich waters. Ecuador's coastal fishermen employ traditional techniques to ensure a sustainable catch, preserving the natural balance of the marine habitat. As a result, the ribbon fish sold in fresh markets is not only tasty but also supports responsible fishing practices.
For those who do not have easy access to fresh ribbon fish, packaged forms offer a convenient alternative. These packaged fish products come in various forms, such as fillets, steaks, or even canned options. The packaging preserves the fish's freshness, making it suitable for consumption even in areas far from the coast.
Packaging methods differ for each product, but the goal remains the same – to maintain the quality and taste of the ribbon fish. Fillets are commonly vacuum-sealed to preserve freshness, allowing consumers to enjoy the fish's tender texture and natural flavors. Steaks, on the other hand, can be individually packaged to ensure easy cooking and portion control.
Canned ribbon fish is also a popular option. This allows for a longer shelf life, making it convenient for those who prefer to have a stock of seafood at home. Canned ribbon fish can be found in different preparations, including natural, marinated, or even mixed with other ingredients like sauces or vegetables. These canned products are not only convenient but also provide a ready-to-eat option for those on the go.
Whether it's in its fresh or packaged form, ribbon fish from Ecuador offers a delectable seafood experience. Its delicate flavor and tender texture make it a versatile choice for various culinary preparations. It can be broiled, grilled, or fried to highlight its natural taste, or it can be added to soups, stews, or even pasta dishes for a burst of seafood goodness.
In conclusion, the tasty ribbon fish of Ecuador is a sought-after seafood option for its unmatched flavor and versatility. Whether enjoyed fresh from the coastal regions or conveniently packaged for wider accessibility, this fish is a treat for seafood lovers. So, whether you're in Ecuador or across the globe, don't miss the opportunity to savor this delicious delicacy.