Cable railing systems have gained immense popularity in recent years due to their modern and minimalist design aesthetic. Offering unobstructed views and an open feel to any space, cable railings are a perfect choice for decks, balconies, and staircases. Not only are they visually appealing, but they also come with the added benefit of being rot-proof and durable.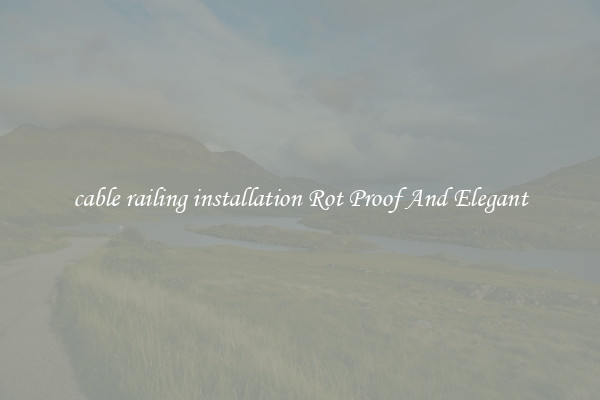 One of the main reasons cable railings are rot-proof is because they are typically made from stainless steel. Unlike other railing materials, such as wood or iron, stainless steel does not rust or deteriorate when exposed to moisture and sun. This ensures that your cable railing will maintain its sleek and elegant appearance for years to come, without the need for frequent maintenance or repairs.
The installation process of cable railing systems is relatively simple, making it a popular choice for DIY enthusiasts. With just a few basic tools, anyone can install a cable railing on their own. However, if you're not confident in your DIY skills, it's always advisable to hire a professional to ensure the job is done correctly.
To start the installation, it's crucial to measure the area where the cable railing will be installed accurately. This will help determine the number of posts and cables needed. Once the measurements are taken, the posts can be securely attached to the deck or stairs using heavy-duty brackets or base plates. It is essential to ensure that the posts are level and plumb before proceeding.
After the posts are installed, the cables can be attached. Stainless steel cable fittings, such as turnbuckles and tensioners, are used to secure the cables in place. These fittings not only keep the cables taut but also allow for adjustment and tensioning, ensuring a sturdy and secure railing system.
Another advantage of cable railing installation is its versatility. Cable railings can be customized to fit any style or design preference. The cables are available in various thicknesses and can be combined with different post materials, such as wood or aluminum, to create a unique and personalized look.
In conclusion, cable railing installation offers a rot-proof and elegant railing solution for any space. The durability and low maintenance of stainless steel make cable railings a long-term investment. Additionally, the straightforward installation process and versatility make it a popular choice for both DIY enthusiasts and professionals alike. So, if you're looking to add a touch of modern elegance to your outdoor or indoor space, consider cable railings to transform your area into a sleek and visually appealing oasis.